SET YOUR CAR
FREE SHIPPING
On orders over $100
RALLYSPORT GUARANTEE
100% Money Back on Select Parts
Customer Photos and Videos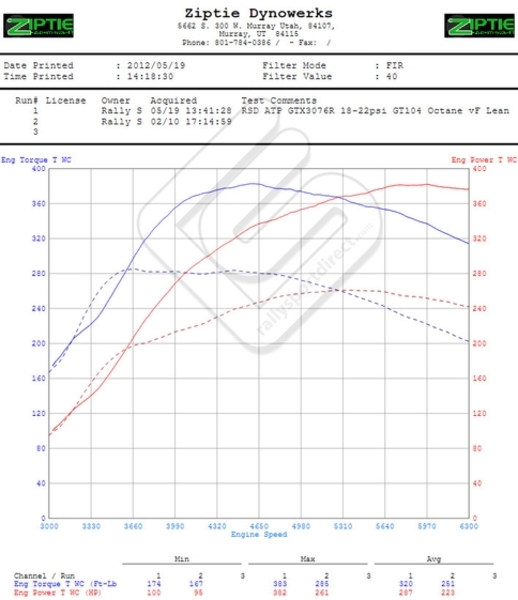 1 of 1 people found the following review helpful
Great Turbo
8 months ago
Chase
I've been waiting to write this review for awhile now. After putting a new iag short block and finishing my break in period, I was finally able to get a protune. I got tuned in Denver at 5000 ft. Made 401 whp and 354 lb/ft on e85. With full boost around 4500 and I'm hitting 23psi.
Was this review helpful?
5 of 5 people found the following review helpful
Awsome turbo!!
5 years ago
jeff-subaruseuth
It starts to spool at 3500 and hits my target boost of 22psi at about 4500rpm. Peak hp it put down was 403 at the wheels with 391 ft lbs tq. Ej257 motor all supporting mods. With e85,external wg setup, and a higher boost target of 25psi. I can see this turbo easily put down 500 at the wheels. My car was dyno'd on a mustang dyno too. From what i read the mustang dynos read lower than other dynos.
Was this review helpful?
1 of 3 people found the following review helpful
Great track turbo
6 years ago
g0al3d52806
First of all understand that without a built block you probably will not be able to tap into the full potential of this turbo. that being said even without a built block this thing with supporting mods (injectors, fuel pump, intercooler) is putting down 364 to the wheels. I don't reach usable boost till 4k rpms but then it pulls like a beast. Obviously shift points will change and take some getting used to. Getting a turbo blanket on the internal wastegate version is difficult, i ended up having to go with a PTP t3/4 blanket and my installer had to do some cutting and fabbing to get it to work (in retrospect I kinda wish I did the externally gated version). I would probably shy away from this turbo for a purely street driven car and even on the track I'm gonna look to build the motor port and polish and do some cams to try to get the spool about 500rpms earlier (this I think will be absolutely perfect) but as a daily driver/weekend track warrior this is a great setup for a stock location turbo.
Was this review helpful?
Community Media