SET YOUR CAR
FREE SHIPPING
On orders over $200
RALLYSPORT GUARANTEE
100% Money Back on Select Parts
Whiteline Front Sway Bar 22mm Adjustable
Customer Photos and Videos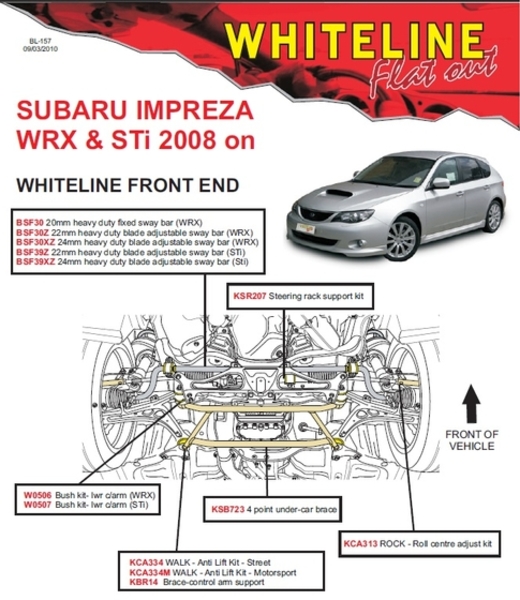 Whiteline Front Sway Bar 22mm Adjustable Subaru
6 years ago
adammdesigns59760
I bought this sway bar for my 2007 Outback XT(I bought a matching rear setup as well). I used whiteline's heavy duty adjustable end links as well. This over all setup has greatly improved my ride and handling. Cornering is tight and responsive with much less body roll. This is great with the Outback's higher suspension. Hands down best and cheapest way to improve your car's handling. There are some issues that can be problem solved. Whiteline's new lube free bushings that come with this sway bar make a lot of creaking noise at low speeds. One fix for this is PTFE tape on your bar where the bushing sits. Also, if you go with the Whiteline end links be sure to check the bolts every so often, they tend to loosen a little over time. If you hear a clunking from the link area while driving they are most definitely loose. Overall I am very pleased with the performance of this product!
Was this review helpful?
1 of 1 people found the following review helpful
Whiteline front swaybar
9 years ago
mauser0681199
If you read my post on the rear it is different for the front. It was a pain in the ass the way subaru holds the endlinks together. You have to use a 5mm allen wrench to hold the bolt in place so you can unscrew the nut. One of my allen heads was stripped and I had to cut the bolt out. I have had to go back under the car several times to make adjustmenats. The Kartboy and whiteline combination up frony just does not work well. The swaybar moves back and forth. Then the bolts hit the swaybar. I have tried several things but still won't work. If the bolt heads were small it would work. I only used the spacers on the top of the endlinks. Still do not know how to fix this issue. But it really does help the roll situation but is it worth always hearing a banging noise?
Was this review helpful?
Community Media