SET YOUR CAR
FREE SHIPPING
On orders over $100
RALLYSPORT GUARANTEE
100% Money Back on Select Parts
Mishimoto Black Top Mount Intercooler w/ Blue Hoses
MODEL #
MIMMMTMIC-WRX-01BKBL
Customer Photos and Videos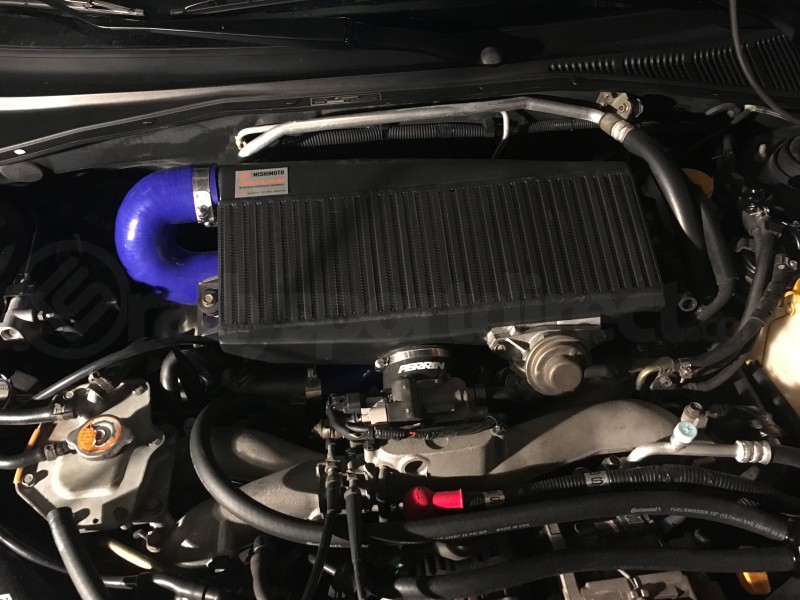 Mishimoto TMIC Reveiw
3 months ago
BlackWagon
-Packaged very nice -Quality hoses, clamps and tmic -Fit perfect, and will no longer struggle trying to remove OEM style intercooler piping to turbo. -Looks great. I have the Cobb heat shield over my turbo and the S style tubing fit just fine. It's close but it still fits. For the price and Quality it's a no-brained. Thanks Ps... shipped and to my house in 2 days!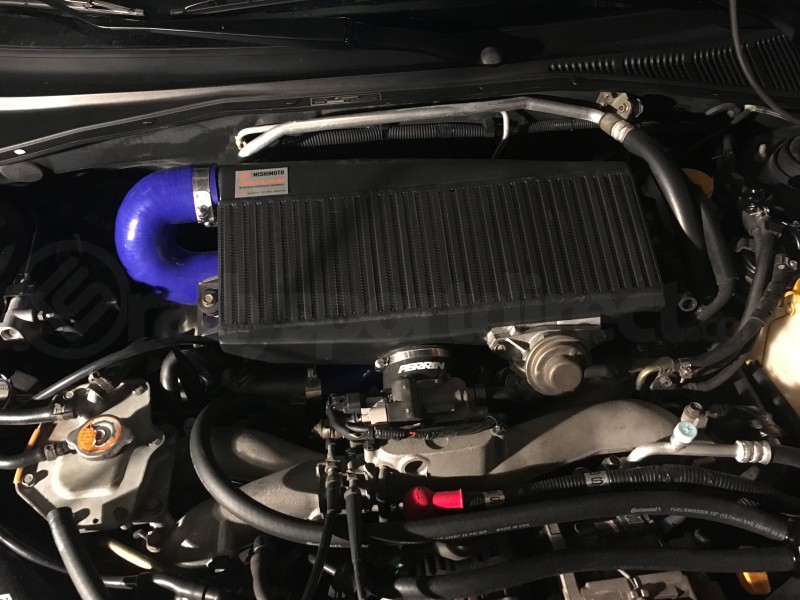 Was this review helpful?
1 of 1 people found the following review helpful
Good intercooler for a good price
5 years ago
geoffrey97817
I got this inter cooler because I needed something a bit bigger than stock and the new turbo fitment wasn't perfect. The S-hose allows for much flexibility during installation. I found my temps to be about the same as stock.
Was this review helpful?
0 of 1 people found the following review helpful
Decent Product, Needs some quality control
2 years ago
Trey
Pros: -Overall happy with this TMIC, works well. Cons: -Comes with no instructions (none online either), normally not a problem except that it comes with two different hoses for the Re-circulation valve with no explanation. (one is for WRX, other is STI) -Mishimoto hose clamps which were included were too big for both sides of the Turbo to TMIC hose(continued below) -Re-circulation hoses were too tight to fit on OEM blow-off valve. Overall I like the product, however I do regret not going with a FMIC setup. Setup was a hassle for what should be a fairly simple install due to undersized tubing. Spent nearly and hour trying different methods to get the piping onto the factory Re-circulation valve. Temps are pretty good, only 10-12 F above ambient when cruising, doesn't lose heat soak very quickly below 60mph. Looks good in engine bay. The only real major complaint I have is the hose clamps that were packaged with this TMIC. The clamps for both side of the Turbo to Intercooler hose were too big (barely) and would not tighten all the way down. This caused an issue as I was on the way to the auto parts store to get some replacement hose clamps where the hose popped off the intercooler, I lost control of the vehicle due to the stalled engine and no power steering around a dirt corner and ended up hitting a pole. Luckily only fender damage, still around a $500 fix. I know it is mostly my fault for driving with the clamps on but could have been avoided by some quality control. I would only suggest to those who really don't want to go with a FMIC or just want a replacement for your stock intercooler, is not really a huge upgrade from stock STI.
Was this review helpful?
Community Media