SET YOUR CAR
FREE SHIPPING
On Orders of 99+.
RALLYSPORT GUARANTEE
100% Money Back on Select Parts
NRG Innovations Hood Damper Kit
Customer Photos and Videos


3 of 3 people found the following review helpful
They do the job
4 years ago
sal71394265
I chose the NRG hood dampers for a couple reasons. First, I was replacing some 6 year old Tein hood dampers (one had leaked out all it's oil) and these looked like the closest match. They are in fact very close in specs to the Tein dampers. The hardware that attaches to the hood and fender seems to be the same dimension-wise. One difference is the NRG units have to be assembled. The Tein units came assembled. This brings me to my problem. These dampers use an aluminum adapter at the top of the damper to attach the ball joint (as did the Tein's). The hole drilled into this aluminum component was crooked. Too much so to let it slide. It took a couple weeks to get a replacement. The RSD rep was on top of it, but NRG was doing inventory or something so it took a long time for them to ship a new piece out. In the end they shipped out an entire kit and the new kit had the same crooked component. That left me with two almost straight adapters to use though so I was able to install them. None of these adapters are drilled perfectly true. It's probably time to recalibrate their machines, but I digress. After getting that all sorted out and installing the new dampers I have to say they work well. The Tein dampers would open the hood most of the way, but the last couple inches had to be pushed up by hand, then it would stay. The NRG dampers extend fully on their own. So that's a marked improvement. So far I'm happy with them. The second reason I chose these units over something like the Grimmspeed dampers is because I don't want the hood to go up that far. It's fine indoors, but I often leave the hood open at the track after a run on course to cool the engine. It seems like the hood would catch more wind sticking straight up. Maybe I'm overthinking it, but it can get windy at the track.
Was this review helpful?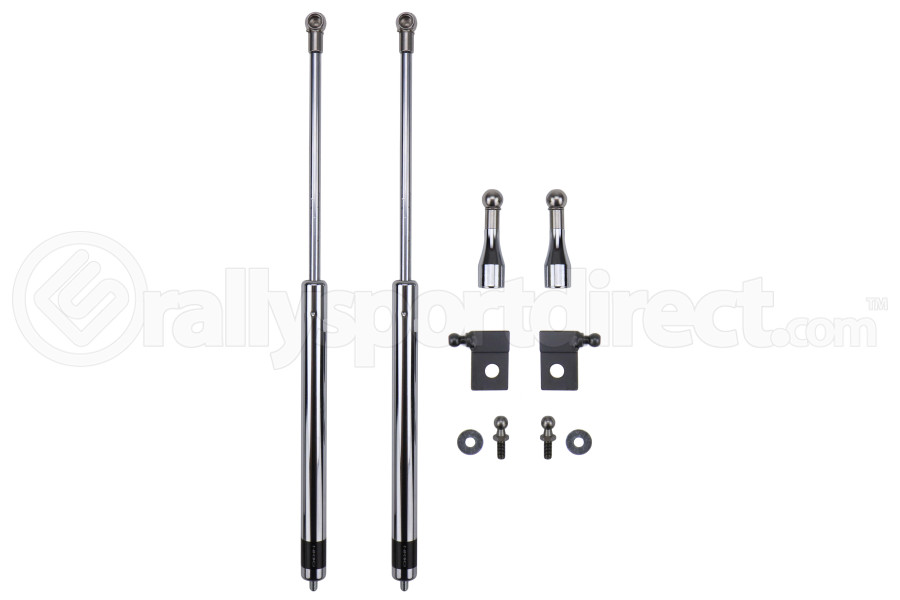 Community Media