SET YOUR CAR
FREE SHIPPING
On orders over $200
RALLYSPORT GUARANTEE
100% Money Back on Select Parts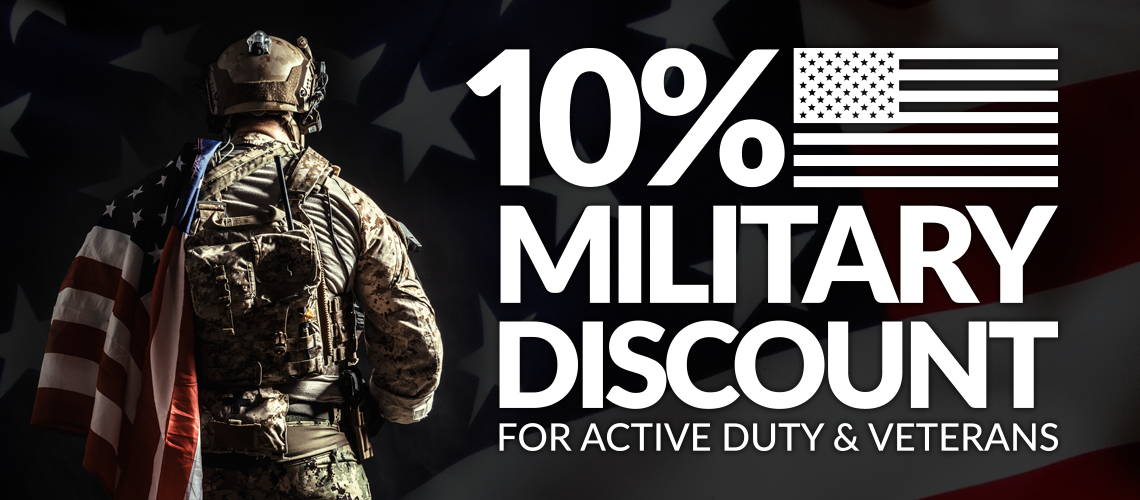 RallySport Direct Military Discounts
Rewarding our heroes
RallySport Direct salutes our troops with an exclusive 10% discount for their service and dedication to defending our freedom! We welcome all Active Duty members, Reserves, Veterans and Retirees of the U.S. Army, Air Force, Navy, Marine Corps, Coast Guard, and National Guard to take advantage of this discount.

---
3 WAYS TO GET YOUR 10% MILITARY DISCOUNT

---
FREQUENTLY ASKED QUESTIONS
WHAT INFORMATION DO I NEED TO SUBMIT FOR VERIFICATION?
Verification is quick and easy. Simply send an email from your government email address to [email protected], other options include providing us with your Military ID number if you're an Active Duty member or a Reservist. If you're a veteran you can Submit your Veteran ID Number.
HOW DO I REDEEM MY DISCOUNT?
We will provide you with a one time use coupon code which you will use at checkout, or you can call our customer service team to place your order.

The following brands are not eligible for coupon:
ACT, AEM Electronics (see list), AirLift, AMS, AWE Tuning, BC Racing, BFGoodrich, Blouch, Cobb Tuning, Crawford, Chemical Guys, Eibach, ETS, Forced Performance, Go Fast Bits, GoPro, GrimmSpeed, Hawk, Injector Dynamics, IAG Performance, Kartboy, Killer B, Michelin, Nameless, Perrin, Pedders, RallyArmor, Subispeed, S&B Filters ReadyLIFT, TurboSmart, Rhino Rack, Uniroyal, RokBlokz, WeatherTech, Rhino Rack, Titan 7, FP Turbo
The following part numbers are not eligible for coupon:
AEM 30-0310, AEM 50-1215, AEM 26-3000RK, AEM 30-7106, AEM 30-6620, AEM 30-6100, AEM 30-4400, AEM 30-2130-500, AEM 30-2005, AEM 23-831BK, AEM 25-302BK, AEM 30-2010, AEM 30-2011, AEM 30-2050, AEM 30-2130-100, AEM 30-2130-50, AEM 30-2130-75, AEM 30-2131-100, AEM 30-2131-150, AEM 30-2320, AEM 30-2355-300, AEM 30-2400, AEM 30-3003, AEM 30-3015, AEM 30-3020, AEM 30-3300, AEM 30-3301, AEM 30-3302, AEM 30-3320, AEM 30-3321, AEM 30-4300, AEM 30-4350, AEM 30-4401, AEM 30-4402, AEM 30-4406, AEM 30-4407, AEM 30-4408, AEM 30-4900, AEM 30-5131, AEM 30-5132, AEM 30-5132M, AEM 30-5135, AEM 30-5135M, AEM 30-5140M, AEM 30-6320, AEM 30-6821, AEM 30-8444, AEM 35-4001, AEM 35-4005, AEM 41-1408DS, AEM 50-1000, AEM 50-1005, AEM 50-1200, AEM 50-1205, AEM 50-1210,