SET YOUR CAR
FREE SHIPPING
On Orders of 99+.
RALLYSPORT GUARANTEE
100% Money Back on Select Parts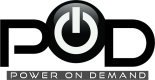 Power On Demand Parts
Power On Demand is a leading innovator of personal power solutions and jump-starters. They design and manufacture quality consumer electronics, as well as many fine products found in the automotive and safety industry. POD designs and manufactures their products using meticulous manufacturing methods to deliver a product the consumer can be proud to own. Take your electronics with you on your next outdoor adventure using a POD product.
Power On Demand Parts
Filters:
Stock
Category
Rating
Price
Stock
Category
Rating
Price
TURNAROUND TIME
Items listed as "24 hours" or "Ships same day" will ship the same day if placed on a weekday before 2PM MST / 4PM EST when shipping via UPS. Items listed differently typically ship by the estimated ship date listed on the product page. These estimated dates are not guaranteed and are subject to change periodically. Our customer service representatives monitor backorders on a daily basis to ensure your order ships as soon as possible. Orders requiring additional verification (security concerns, incorrect information, etc.) may need additional processing time.
FREE SHIPPING
Free shipping is available within the lower 48 states for orders totaling $99.00 or more. Simply select the free shipping option during checkout. Even though expedited shipping is not free we will still discount the free shipping option from the expedited shipping cost for you. This offer excludes shipments going to Alaska, Hawaii, Military Boxes, and items too large to ship via UPS or USPS. These items are usually large freight or bulky items such as engine blocks, etc.
View Shipping Policy